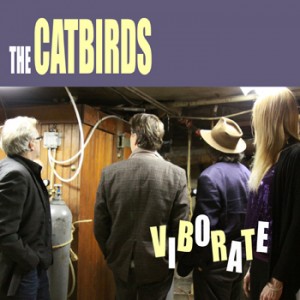 Despite the fact that we've often seen him performing in pajamas, we really don't know when the hell Chandler Travis sleeps. It would seem that he must be playing music around the clock, considering that he plays solo shows in addition to leading the Chandler Travis Philharmonic, the slightly down-sized Chandler Travis Philharmonette and the Chandler Travis Three-O, not to mention the Incredible Casuals and perhaps a Travis Shook & the Club Wow reunion or two along the way.
But apparently the ridiculously restless Mr. Travis was not satisfied.
Which brings us to the Catbirds, Travis' latest gang of musical merauders. As always, Travis has a pretty good handle on what he's doing, and what he's doing isn't loopy pop or surrealist dixieland. No, the Catbirds are a straight-up, no-frills, four-piece rock 'n' roll band.
Or as Travis describes it, "If Justin Bieber and Lady Gaga had quadruplets, except somehow they ended up being kind of musical in addition to being rather large and rubbery, and it happened about 50 or 60 years ago, well – presto! – the Catbirds."
With Travis anchoring the tunes on bass, his Catbirds bandmates are familiar faces – the utterly unique Rikki Bates on drums; Session Americana's Dinty Child on guitar and mandocello; and Steve Wood (formerly of the Freeze and the Greenheads) on guitar. The band got together last year and didn't waste any time getting into the studio. In two days in November they churned out more songs than they could fit on a disc, so they decided to throw out this little four-song teaser CD in advance of their full-length debut which is slated for release in the fall.
Just four songs? Yeah, but the Catbirds wet your whistle (or any other part of your body) with the tasty, Jerry Lee-like rendition of Bobby Brown & the Curios' rockabilly nugget "I Viborate" and a down 'n' dirty stomp through the Goffin-King gem "Another Night With the Boys," as well as the distortion 'n' cowbell-driven "Are We Done Yet" and the thunder-drummin' garage-rocker "Stoned."
OK, Catbirds, you definitely got my attention. How long do I have to wait for the album?
Ah, but you don't have to wait for the album… The Catbirds rumble into Dinosaur Bar-B-Que in Troy at 10pm tonight with Sal Baglio (of legendary Boston rockers the Stompers) subbing for Dinty Child. What's even better? Admission is free.